Designer Lingo 101
Design | August 11, 2011 @ 11:09 AM
---
---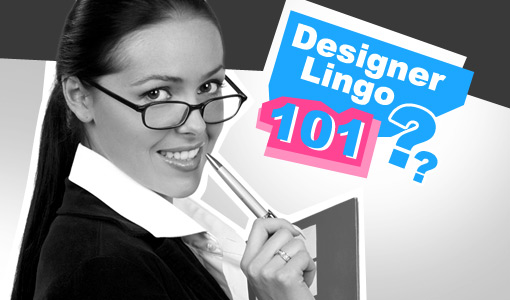 When working with graphic designers, the chances you'll come across some form of Design Lingo - or design-focused jargon - is very high. As the Client, you do not need to know everything about these concepts, but you will need to know the minimal basics to provide your designer with the necessary materials for your project.
This post highlights three of the biggest, most commonly-used terms in graphic design.
1. Dots Per Inch (DPI)

DPI stands for "Dots Per Inch" and measures the quality of an image file. This is important when you're considering what you're going to do with the image. The greater the DPI, the more detail your image has. It is also important to note that high DPI also means larger filesizes.
300 DPI - High Resolution, Printer-Friendly
If you're going to print the image in a brochure, pamphlet, or flyer of some sort, you want 300 DPI. This is the standard for printer-quality resolution files, and applies to your typical home office printer as well as professional print shops.
How to get it:
Usually once you load an image straight from your digital camera, it's set to 300 DPI by default.
If you check the properties of your image file, the file size is usually around 1 Mb large.
Used in:
Most standard print-based media, such as business cards, magazine/newspaper advertisements, letterheads, etc.
High-resolution photography
High-resolution PDFs
144 DPI - Medium Resolution, Web and Large Prints
If you're publishing for the web, you don't need high resolution images because all that does is kill your website's bandwidth and annoy your visitors with unnecessarily large files. 144 DPI is one choice for web resolution images.
144 DPI is also commonly used for large print jobs, such as 10-foot high posters and banner ads.
Large print jobs have a smaller DPI requirement because 300 DPI becomes too large, clunky, and full of unnecessary detail. If you ever walk up to a billboard or a huge poster print, you'll notice that the resolution on those things is actually pretty poor. This is because your audience is usually standing from too far away to care about the image quality.
Used in:
Billboards on the highway
Large posters advertising upcoming movies or events
Large print media for trade shows or other large events
72 DPI - Low Resolution, Web
72 DPI is the unofficial standard for low-res, web-quality images. If you're publishing a website, and its layout requires images, chances are those images are set to 72 DPI. It's small, decent quality, and loads very very fast.
Used in:
Websites, web-based images
Online photo galleries
Speed-dependent applications
---
1 Comments
Thanks for this, especially the dpi part. Very useful.
---
Add a comment!