Communication at its simplest, and most complex form
Design | July 11, 2028 @ 1:02 PM
---
---
Marketing, at its core, is a form of communication that focuses on catching the audience's attention as quickly and effectively as possible. And when it comes to effective communication, Language is key.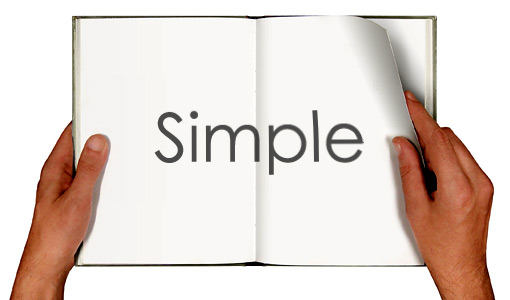 "Don't tell me. Show me."
This was my Language Arts teacher's favorite phrase in grade school, and was first introduced to us when we were learning to write more descriptively. We were encouraged to decorate our writing with flowery adjectives, and to create grandiose paragraphs that bent over backwards to describe a picture in English vocabulary.
It was all good fun, and without a doubt would've made us fantastic careers as modern Shakespeareans. However, Business and Marketing requires us to keep things a little more short and sweet, clean and simple.
There are a few reasons Marketing demands simplicity
Simplicity emphasises the main point and keeps everyone on track
It's easier (and more effective) to read a main point versus an entire novel
You only have a small window of opportunity to grab your audience's attention - better to make it count!
A quick search on Dictionary.Com gives us the following definition
"simple" - (adj.)

easy to understand, deal with, use, etc.: a simple matter; simple tools.
not elaborate or artificial; plain: a simple style.
not ornate or luxurious; unadorned: a simple gown.
Here's a bit of reverse engineering to cut the fluff, and get straight to the point (my apologies, Mrs. Tons). When writing your campaign proposal, consider:
Defining a goal in writing. Be it a mission statement or thesis. Keep going back to it.
Form your ideas in terms of bullet points, rather than paragraphs.
Cross out any extra and unnecessary adjectives or flowery phrases, and see if your meaning still remains intact. Then add some words back in sparingly.
If you have more than one point to deliver, put them in an easy-to-understand, hierarchichal order.
Back up, re-read your proposal. Does the main message come across in less than 3-5 seconds?
Marketing "Simple" can be very difficult, and for good reason. It involves boiling down complex, often convoluted ideas into short and concise one- or two-liners; it's about consolidation and impact. But at the end of the day, the rewards are worth it.
What's your approach to marketing "Simple"?
Always open to new insights on turning complicated ideas into simple, easy-to-understand messages. It's Marketing Bread & Butter. Please feel free to share any thoughts or suggestions to add to my list!
---
Add a comment!